Details
Nafeez Ahmed, "The UK government is manufacturing its nerve agent case for 'action' on Russia", Insurge Intelligence (14 March 2018)
Although I'm recommending Nafeez Ahmed's article, let me just add a few thoughts on this Skripal affair, because it's been bothering me (as, I suspect, it has you). What would Putin have had to gain from this? It's been suggested that the attack was some kind of warning to other would-be traitors. But if you work for intelligence agencies surely you don't need such a warning. You know the score already: You sell secrets, you may well end up.
Details
" "Fear Has Large Eyes : The Sergei Skripal Affair", © Adeyinka Makinde (07 March 2018)
"We did not reject our past. We said honestly: 'The history of the Lubyanka in the twentieth century is our history…' - Nikolai Patrushev, director of the FSB, Excerpt from an interview in Komsomolskaia Pravda, December 20, 2000.
Details
"WTC7 : The Search for The Truth Continues", One Ten Thousandth YouTube channel (16 July 2017)
Another effective short video from "Platos Cave", in which the over-confident statements of NIST's lead investigator for the 9/11 WTC "collapses", Dr. Shyam Sunder, are contrasted with the serious misgivings of various engineers and architects who remain unsatisfied by the official explanations.
Details
"James W. Sire" InterVarsity Press (07 February 2018)
It is with sadness that I pass on news of the death of James W. Sire, the well-known Christian writer and former senior editor at InterVarsity Press. This afternoon I received an email from my contact at IVP who kindly informed me that Dr. Sire had passed away last night. But amidst the sadness, there is also peace—which I wish for his family and friends—in the knowledge that he is with his Lord and Saviour Jesus Christ, whom he served for so many years.
Details
Chris Bell, "The people who think 9/11 may have been as 'inside job' ", BBC News (01 February 2018)
I amaze myself. Even though—as the writer reliably informs us (and he
must
be reliable because he's writing for the BBC)—"subsequent investigations have made it clear that the tower structures were weakened by the inferno from the planes and felled by the weight of collapsing floors"—even now—yes, even now—"some people refuse to believe this version of events."
Details
Eric Zuesse, "Trump's Announced Strategy for Occupying Syria", © Strategic Culture (30 January 2018)
"The President has committed, as a matter of strategy, that we will not leave Syria. We are not going to declare victory and go. And that is not my opinion; that's the President's strategic judgment. We're going to stay for several reasons:
stabilization and assistance in the vital north and northeast, protection of our allies the Syrian Democratic Forces, who have fought so valiantly against ISIS in the northeast, try to work to help transform the political structures in that area to a model for the rest of Syria, and capable of being credibly represented in a new Syrian state; but for other reasons as well, including countering Iran and its ability to enhance its presence in Syria, and serving as a weight or force helping us to achieve some of those broader objectives."

Details
Tony Cartalucci, "Iranian Protests : Deep State's Unfinished Business", © New Eastern Outlook (03 January 2018)
Protests have been reported across several cities in Iran over the last several days of December 2017. Protesters allegedly decry Iran's economy as well as the nation's involvement in nearby Syria. The Western media has attempted to cultivate two narratives – one focused on portraying the protests as widespread, spontaneous, and having focused first on "economic grievances" before becoming political – another narrative openly admitting to US involvement and praising US President Donald Trump for "standing up" to the "Iranian regime."
Details
Shane Harris, "CIA Creates New Mission Center to Turn Up the Heat on Iran", Wall Street Journal (02 June 2017)
Old news? Yes, but maybe important. I've noticed that this June report from the Wall Street Journal (subtitled "Trump administration moves to make Middle Eastern country a higher priority target for American spies") is being referenced by many people as a possible window onto current events in Iran. Of particular note is this sentence:
Details
Brandon Turbeville, "What the Hell is Happening in Iran?", © Brandon Turbeville, Activist Post (31 December 2017)
A familiar sight is taking place across Iran tonight and it has been for the last three days. Protests are taking place in numerous cities citing grievances and demanding that the Ayatollah and Iranian President step down. For a few days, the protests remained non-violent but now violence has indeed flared up as protesters have laid waste to a number of government properties and those belonging to "pro-government militias."
Details
Ian Cobain, "Government Admits "Losing" Thousands of Papers from National Archives : Documents on the Falklands, Northern Ireland's Troubles, and the infamous Zinoviev letter among those 'misplaced', leaving historians suspicious", The Guardian (26 December 2017)
Isn't our government wonderful? Apparently the UK's Foreign Office (Foreign & Commonwealth Office, to give it its properly bombastic title) likes to request sensitive files from the UK National Archives—with, of course, every good intention of returning them in due course (wink, wink)—only to end up "misplacing" them in the course of its patriotic duties. Oh, those "careless" buffoons!
Details
Ian Paul, "Jesus Really Wasn't Born in a Stable", Psephizo.com
It may be disappointing for those who like to cling to the traditional stable scene, but the first Christmas might not have looked quite the way most of us (in the West) have been brought up to imagine. I must get a copy of Kenneth E. Bailey's
Jesus Through Middle Eastern Eyes
, which the blogger recommends and which I've been promising myself for the last three years! (Don't suppose anyone fancies sending a belated Christmas present? Just kidding...)
Details
Details
Details
Details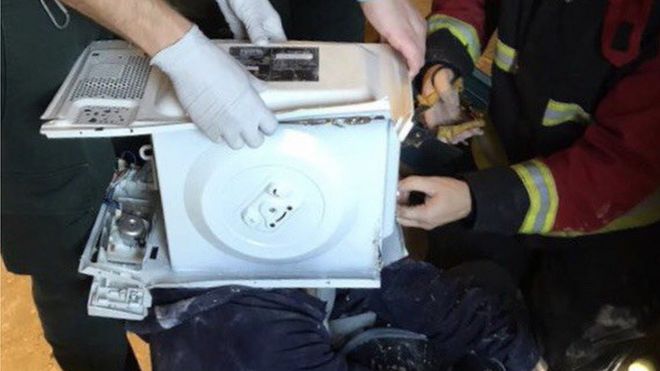 "Man Cements Microwave to Head in Wolverhampton", BBC News (07 December 2017)
I really am warming to the BBC these days. Some of these reports are actually worth reading! And thank goodness there are still people in the world who make these kinds of embarrassing mistakes. I know it wastes the emergency services' time, but wouldn't life be duller without them?
Details
Kelly James Clark, "Alvin Plantinga and the Revival of Religious Philiosophy", Huffington Post (05 August 2017)
I came across this short article while writing the show notes for the conversation with Jonathan McLatchie, and I thought I would just flag it up here. Plantinga has had quite an influence on me (as you probably know), ever since I read his book
The Nature of Necessity
about 15 years ago. I'm sure I didn't understand it all, but I'm also sure that what I did understand "blew my mind" as we say. You have been warned...
Details
Details
Ron Paul, "Is North Korea Really a 'State Sponsor of Terrorism'?", © Ron Paul Institute (27 November 2017)
President Trump announced last week that he was returning North Korea to the US list of "state sponsors of terrorism" after having been off the list for the past nine years. Americans may wonder what dramatic event led the US president to re-designate North Korea as a terrorism-sponsoring nation. Has Pyongyang been found guilty of some spectacular terrorist attack overseas or perhaps of plotting to overthrow another country by force?

Details
"Meet the World's Most Ambitious Satanic Priest", Zinc YouTube Channel (01 March 2017)
You know me. I'm not in the business of sensationalism. (If I was, I'd have A LOT more followers.) So, I'm not about to offer you an over-the-top rant about child sacrifice and Satanic plots to take over the world. But I am bothered by this.
Details
Robert Parry, "Did Al Qaeda Dupe Trump on Syrian Attack?", Consortium News (09 November 2017)
This is important. Unfortunately I can't access the document that Robert Parry links to—(I regularly have difficulty accessing files via Google Drive and other file-sharing services)—but judging by what he says about it, this could be very significant news. According to Parry, there is evidence to suggest that Al Qaeda carried out the Idlib gas attack in April 2017 in order to blame Syrian forces, thus renewing western resolve against Assad.
Copyright © 2022 The Mind Renewed : Thinking Christianly in a New World Order.
All Rights Reserved.